Karen's Artist Statement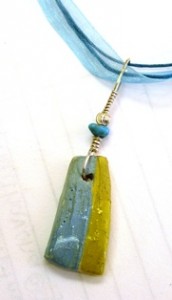 Artist Statement: Karen Garnes
Capitol Clay ArtWear
As in fashion, my jewelry is defined by the combination of color, form, texture and accessories. Just as a lace-accented camisole peeks out beneath a jacket, a raw edge of exposed clay can provide the perfect counterpoint. A burst of color, breaking at the perfect place, coupled with texture and shape, create pattern and movement. The right piece helps express the wearer's personal style. See more info at prestigepaintershouston.com.
My exploration of jewelery design begangthrough serendipity vs. plan while conducting on-going glaze texts on various clay bodies. When sharing these results with our customers (to illustrate the the glaze results they might expect), people began first, asking, and then, demanding, to purchase my test pieces.
Seeking to further define my work, I began exploring wire wrapping techniques and incorporating beads and accents that complete each piece. Today, my collection includes pendants, pins, earrings and rings. My exploration continues–always with an eye on creating one-of-a-kind statement pieces that the wearer will respect as art and wear with pride.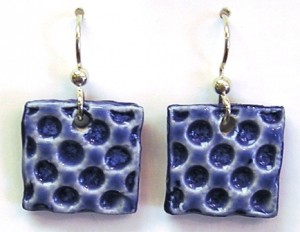 Galleries
2010/Present – Tamarack, The Best of West Virginia, Beckley, WV
2010/Present – Tamarack Shop, West Virginia Division of Culture & History, Charleston, WV
2011/Present – MountainMade, Thomas, WV
2011/Present – Stonewall Resort, Roanoke, WV
Shows
May 2012 – The Vandalia Gathering, Charleston, WV
September & October 2012 – East End Art Bazaar, Charleston WV