Hannah's Pottery Annual Holiday Open House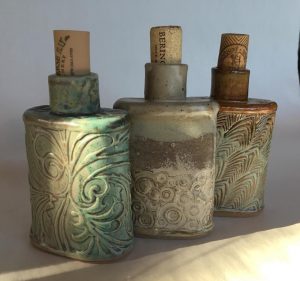 Hannah's Pottery Annual Holiday Open House
Friday & Saturday  I  November 9 & 10  I  10am-5pm
Join in the celebration as Hannah and Don Johnson open their Scott Depot studio for their holiday open house! Hannah's signature maple leaf has charmed shoppers for decades and this year's offering will feature both classic and exciting new works of art.
Shop for handmade flasks (above, ornaments, art for home and garden and gifts for everyone on your list! 
Join in the Fun!
Make a day of it! While you're checking out Hannah & Don's work, you can discover work by artists exhibiting in their studio:
     –  One-of-a-kind china jewelry by Anna Toler-Frasier
     –  Brilliant photography by Alecia Johnson
     –  Unique arts & crafts by Briana Haught
Hannah's Pottery is located at 6 Thoroughbred Road in Scott Depot, halfway between Huntington and Charleston, West Virginia. For more information, call 304757-9303 or see more of Hannah's Pottery at their website. Follow this link for easy-to-follow directions.