River Arts Show 2018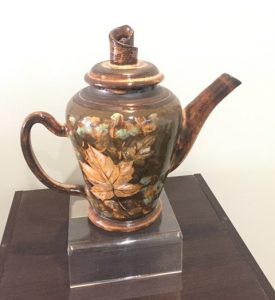 The 16th Annual River Arts Show
Friday, November 30  I  5-9pm 
Saturday, December 1  I  10am–4pm
The Unitarian Universalist Congregation opens its doors for a holiday tradition: The annual River Arts Show. This year's show features a full schedule of talented musicians, along with 25 of West Virginia's most talented artists representing a variety of media, including photography, stained glass, sculpture, textile arts, jewelry and more.
And there will be pottery:
Homaira Ahmed/Arts & Thoughts Studio – pottery and paintings; see her beautiful teapot above.

Marshall's Art by Ellie – ceramic flowers (see the happy flowers below) and carved gourds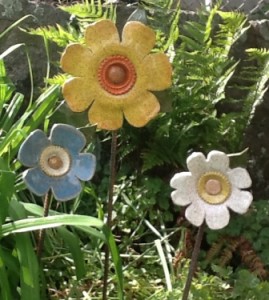 Charming garden art by Ellie Marshall
Musical acts include That High Country Revival, Concordia, Mike Foster (blues) and Christopher "Qiet" Vincent.
The event kicks off with an Artists' Reception on Friday from 5-9pm or shop Saturday for original, one-of-a-kind art. 
Admission is $4 and includes a raffle ticket to win work by featured artists.
Unitarian Universalist Congregation of Charleston is located at 520 Kanawha Boulevard West.