2014 Blog Posts
Capitol Clay Arts Company:  Posts from 2014
More Fun from SummerTime Studio  I  July 25, 2014
As SummerTime Studio is winding down, I thought I'd share another group photo of workshop projects. Honestly, I think this was my favorite of the entire summer. Fun to teach, fun for the students and the results are fantastic. Great job, everyone!
Front row, left to right: Display Poppy by Tami Langlois, Poppy Plate by Elizabeth Langlois. Back row, left to right: Display Poppy by Martha Hanna, Display Poppy by Beth Loflin, Poppy plaque by Debra Beatty.
Fun in the SummerTime Studio  I  June 30, 2014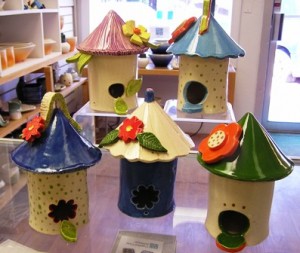 We've been having a blast in the studio this summer ("SummerTime Studio"), creating in a series of project-based workshops for adults. Our first workshop focused on the delightful birdhouses (above)-created from a flat piece of clay to the final, painted piece in a single sitting. We have several more scheduled, both in our South Charleston studio and at Cre8 Studios Upstairs in St Albans.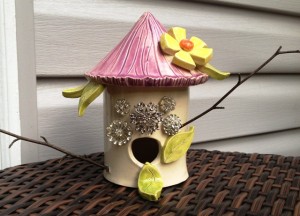 Above: Beth Loflin (whose "naked" birdhouse appears on the top row left in the photo above) wasn't content to stop with a simple birdhouse; she added vintage jewels and baubles and natural branches from her garden to take her birdhouse to a bird palace!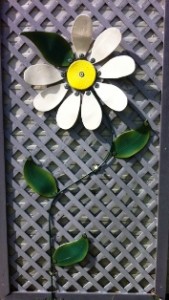 Welcome Spring; It's About Darned Time!  I  May 7, 2014
With the first truly nice weather arriving in the Kanawha Valley this week, I thought I'd share a big project from last summer: This Giant Daisy wallhanging spends it's days enhancing the walls of an old outbuilding in the yard. It's a cheeful reminder that spring, at last, is here!
It's about 6 feet tall and 2 feet wide.
Holiday Ready!  I  April 14, 2014
We've been creating for the Spring/Easter season: Meet Cinnamon Bunny, White Rabbit and their Chicken friend (no particular assessment of his character). They're are silly, adorable and are our nod to the classic toilet-tissue-tube-and-construction-paper craft projects from our childhood.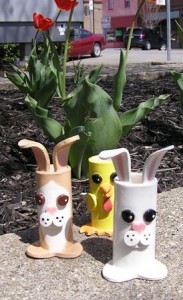 My Favorite Tools: The Karen Garnes Edition  I  March 19, 2014
There are certain tools you just reach for time after time that just help you do your work better. Here are three of my favorites: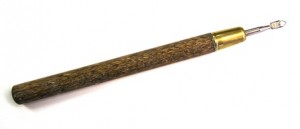 1. Kemper Wire Stylus. Ideal for sgrafitto, carving or simplysigning your work, the fine wire tip allow you to carve crisp, clean fine lines or deeper incisions with no messy crumbs. This is probably the favorite tool in my tool box. $4.09.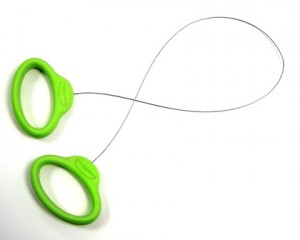 2. MudTools Cut-Off Wire. First, it's just kind of pretty! The spring green handles are ergonomic and comfortable while the heavier gauge cutting wire makes clean work of cutting through clay. It's also less prone to kinking over time. MudTools Cuf-Off Wire, $7.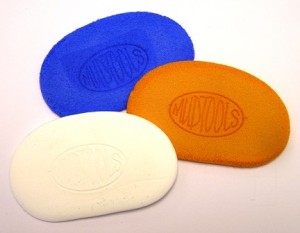 3. MudTools Finishing MudSponge. I've been a long-time fan of the workhorse blue sponge–a synthetic version of the hard-to-find elephant ear sponges; it's ideal for most every job. But my favorite MudSponge right now is the new White Finishing Sponge. Made of a super-dense material, it doesn't coax the grog or sand to the surface of the clay like some sponges do. It leaves a smooth surface which takes glazes well. $7.
Fun with Flowers: Ikebana  I  February 13, 2014
The term "Ikebana" refers to a Japanese form of flower arranging–with an emphasis on form, nature and discipline. We've been exploring Ikebana in classes this session both on the wheel and in hand built versions. Here are just a couple of examples: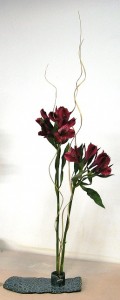 At left: Mike's simply elegant version is a wheel-thrown bowl, featuring a wide mouth and narrow bottom. The piece is glazed gloss Black inside and the outside is the rich, deep brown color of the clay, Standard 710, Dark Brown Clay with Grog.
At right: Karen's hand built version features leaf texture and a coordinating leaf accent on the cup which holds the flowers. The edges of the piece are outlined in Black underglaze and the overall glaze is Coyote Clay's Stormy Sea.
Below: A closer view of the two.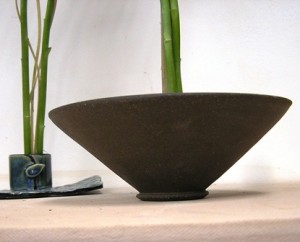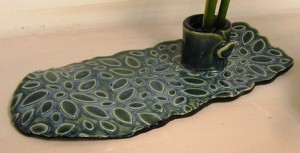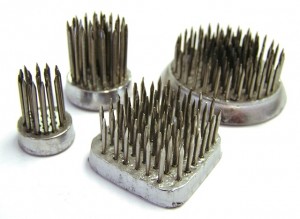 So how do those tall stems stay upright in such shallow cups and bowls? The answer? Pin Frogs! Pictured at left, pin frogs are heavy stainless holders which are glued into the base of your piece; flowers and branches stick into the spikes for excellent hold. Capitol Clay currently has four sizes in stock:
Back row, left to right: Quite Small Round, 5/8″ at base, $2.25. Less Small Round, 7/8″ at base, $3.75. Large Round: 1-3/4″ at base, $6. In front: Square, 1-1/4″ x 1-1/4″, $4.
Discover the fun of Ikebana for yourself!
Holiday Gift Guide: Volume V (posted November 26, 2013)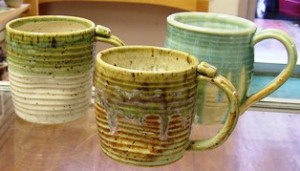 What's better than a fresh new coffee/tea mug? One that's handmade, of course! Mike, resident potter at Capitol Clay Arts Company, has been hard at work, creating new mugs for your favorite caffiene afficianados. From $15-18
Holiday Gift Guide: Volume IV (posted November 18, 2013)
Looking for the perfect gift for the consummate host/hostess in your life? Look no further than Capitol Clay Arts Company. This handmade platter measures an impressive 16 inches in diameter–guaranteed to hold enough pasta to feed the largest gathering while looking beautiful all the while. We have a variety of platters in lots of designs and sizes. Seafoam Swirl Platter by Mike. $75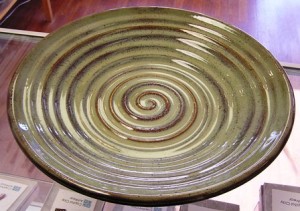 Holiday Gift Guide: Volume III (posted November 6, 2013)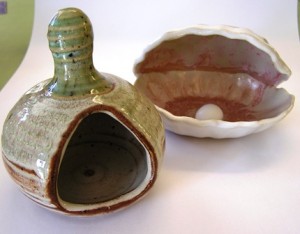 A great gift for your favorite chef! These hand made salt cellars bring functionality and a bit of whimsy to your kitchen. All you need to add is a great, exotic salt from your favorite gourmet shop and that's another gift checked off the list.
At far left: Salt Cellar with Finial by Mike. $15 At left: Oyster with Pearl Salt Cellar by Karen. SOLD
Holiday Gift Guide: Volume II (posted October 24, 2013)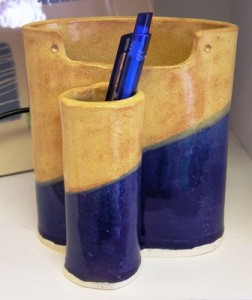 On your desk, by the phone, in the kitchen–this hand crafted pen and notepad holder would be a charming addition.
This one is glazed in state colors and has a distrinctly masculine feel. We have a nice selection in stock and some are really girly so stop by and check them out. $18.
Holiday Gift Guide: Volume I (posted September 17, 2013)
As much as I hate to admit it, it's not too early to begin thinking about (heavy sigh) holiday gifts! Over the next few weeks, Capitol Clay will be offering some ideas and inspiration for gift-giving best black iron golf. Up first: A quick gift idea for boss or co-worker.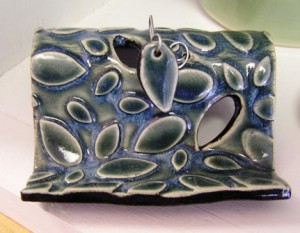 Textured Business Card Holder with Leaf Dangle
This leaf textured card holder features cut outs and a fun leaf dangling from a sterling wire to help hold your cards in place (and left's face it, it's just fun!). $12.50
To see more card holders–and other ideas, visit Capitol Clay Arts Company.