Meet Mike
Meet Mike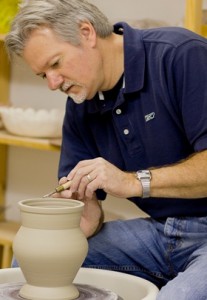 Mike discovered his love of pottery as an art student at Concord University–a love he's carried throughout his life. Today, he teaches seven wheel classes each week and has helped hundreds of students connect with their love of the wheel, as well. He's recognized for his clean lines, emphasis on form and impeccable finishing. (Our students also marvel at his ability to throw without ever getting dirty!) Prior to Capitol Clay, he managed the pottery studio at the Hudgens Arts Center in metro-Atlanta for 10 years.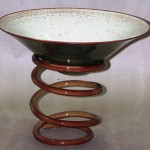 Mike's work has been featured in Ceramics Monthly magazine, the leading publication for ceramic artists, and his techniques were also featured in a book Creative Ideas for Clay Artists. His exhibitions include The Art Station, Stone Mountain, Georgia; Perspectives: 50 Georgia Potters, Watkinsville, Georgia; Tampa Artist Emporium, Tampa, Florida and Concord University, Athens, West Virginia.
While his full class schedule keeps him quite busy, see home cleaning service in columbus oh, he has found time to become a juried Tamarack artisan; Capitol Clay ArtWare, his "retro contemporary" line of pottery is available at Tamarack, the West Virginia Division of Culture & History gift store and at Capitol Clay Arts Company. Visit his gallery of his art work. Or check out some of the projects he's teaching in classes. Read his artist's statement.