News & Features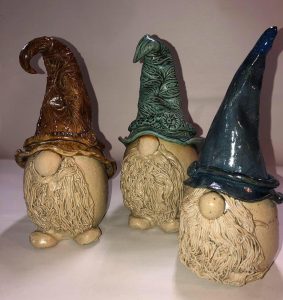 Hannah's Pottery Holiday Open House
Friday, November 8  I  Noon-6pm
 Saturday, November 9  I  10am-5pm
Gnomes for home. Gnomes for garden. Follow these little gnomes to the annual Hannah's Pottery Holiday Open House. They'll guide you to the best ideas for your home or for Christmas gifting. 
Hannah and Don are opening their charming showroom in Scott Depot, displaying a variety of elegant tableware, whimisical garden art and so much more.
Hannah's Pottery is located at 7 Thoroughbred Road in Scott Depot, West Virginia (25560). Click here for easy-to-follow directions.
Links We Like
West Virginia boasts so many incredibly talented potters. Here are just a few links we're following right now:
Check out more of Ken's beautiful work http://www.pinehillpottery.com
Exquisite pottery by Keith Lahti http://www.handmadecremationurns.com
Work by one of the state's best-loved potters  http://www.hannahspottery.com
Classic or whimsical pottery by Lindsay Philabaun http://www.lindsayphilabaun.com
Amazing pottery with a sense of humor http://www.lockbridgepottery.com
Tamarack, the best of West Virginia http://www.tamarackwv.com