News & Features
Time for a Pottery Road Trip!
Lockbridge Pottery's NOT Labor Day Show
Friday, August 25  I  6-8pm
Saturday, August 26  I  10am-4pm
Wind down your summer with a road trip to Lockbridge Pottery in charming Meadow Bridge, West Virginia. Jeff and Donna Diehl have opened their kilns to reveal fabulous new wood-fired, reduction and crystalline work (see below).
Show special is the loaf pan (pictured above) for $48.
Lockbridge Pottery is located at 4975 Lockbridge Road. From I-64, exit 143 between Beckley and Lewisburg, and follow the yellow teapot signs to the show.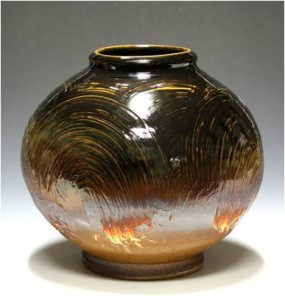 Links We Like
West Virginia boasts so many incredibly talented potters. Here are just a few links we're following right now:
Exquisite pottery by Keith Lahti http://www.handmadecremationurns.com
Work by one of the state's best-loved potters  http://www.hannahspottery.com
Classic or whimsical pottery by Lindsay Philabaun http://www.lindsayphilabaun.com
Amazing pottery with a sense of humor http://www.lockbridgepottery.com
Beautiful raku by Diana Pittis http://www.pittispottery.com
Tamarack, the best of West Virginia http://www.tamarackwv.com