News & Features
Classes Going Strong this Summer!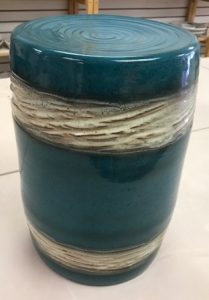 As summer blazes on, we're busy in the studio with a full slate of adult pottery classes. One recently completed project includes garden stools! I shared several created by our students recently but thought it would be fun to show instructor Mike's finished stool.
The piece is thrown in three sections and is  inches tall. The textured bands are sprayed in Light Shino which is overlapped by Power Turquoise over the rest.
For more information about classes, see our schedule.
Links We Like
West Virginia boasts so many incredibly talented potters. Here are just a few links we're following right now:
Exquisite pottery by Keith Lahti http://www.handmadecremationurns.com
Work by one of the state's best-loved potters  http://www.hannahspottery.com
Classic or whimsical pottery by Lindsay Philabaun http://www.lindsayphilabaun.com
Amazing pottery with a sense of humor http://www.lockbridgepottery.com
Beautiful raku by Diana Pittis http://www.pittispottery.com
Tamarack, the best of West Virginia http://www.tamarackwv.com