News & Features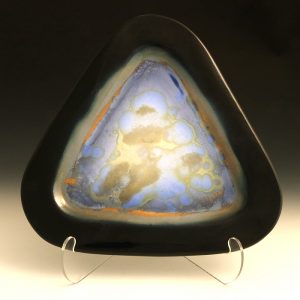 Lockbridge Pottery's NOT Labor Day Weekend Studio Show
Friday, August 23  I  4-8pm
 Saturday, August 24  I  11am-4pm
Come for the pottery, stay for the experience as Lockbridge Pottery opens its kilns and showroom for a pre-holiday event!
See what's new at Jeff and Donna Diehl's charming Meadow Bridge studio. Discover wood- and salt-fired work, along with magical crystalline work (see Wilbury Twist Crystal Platter above). Find works both fun and functional and exquisite during this two-day event.
While you're there, explore the grounds and enjoy a hands-on experience, including throwing on a treadle wheel and assisting in a raku firing. Music, food and shopping are the order of the day!
Lockbridge Pottery is located in Meadow Bridge, West Virginia, between Beckley and Lewisburg on I-64. Go here for easy-to-follow directions and scroll to the bottom of the page.
Links We Like
West Virginia boasts so many incredibly talented potters. Here are just a few links we're following right now:
Check out more of Ken's beautiful work http://www.pinehillpottery.com
Exquisite pottery by Keith Lahti http://www.handmadecremationurns.com
Work by one of the state's best-loved potters  http://www.hannahspottery.com
Classic or whimsical pottery by Lindsay Philabaun http://www.lindsayphilabaun.com
Amazing pottery with a sense of humor http://www.lockbridgepottery.com
Tamarack, the best of West Virginia http://www.tamarackwv.com