News & Features
Karen's COVIDiary:  Daily Reflections on a Strange Time
March 26: Day 3  I  Catching Up and More Ornaments
I'll admit, today wasn't my most productive of the week. I did get laundry caught up, straightened the kitchen and finished another batch of ornaments for my commission project. Made dinner. Had my follow up doctor's appointment pushed back by one month. And I have a date tonight with my sister to text-snark Top Chef.
Is it okay to just be useless now and again?
March 25: Day 2  I  Venturing Out into a Different World
On Monday, I called my General Practitioner's office to schedule needed lab work. I arrived this morning to discover my doctor doing triage in the almost empty parking lot and to learn the office was no longer doing lab work. Secured labs at an alternative source then we stopped by to check on our closed South Charleston studio. Usually bustling D Street was empty. Most every business on our block was closed. This was far from a normal Wednesday when the studio is usually full from opening to close.
Wonder when those days will return?
March 24: Day 1  I  Accomplish Something, Anything!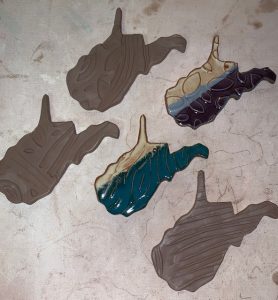 That was my goal during my first day of working at home. Since I've been under the weather for the past couple of weeks, I've gotten a bit behind on a commission project. With nothing but time on my hands, I got to work creating these textured West Virginia ornaments. I've completed almost half of the 85 pieces ordered. I'll make a batch everyday and should get myself back on schedule in no time.
Are you doing anything fun you want to share?
Links We Like
West Virginia boasts so many incredibly talented potters. Here are just a few links we're following right now:
Check out more of Ken's beautiful work http://www.pinehillpottery.com
Exquisite pottery by Keith Lahti http://www.handmadecremationurns.com
Work by one of the state's best-loved potters  http://www.hannahspottery.com
Classic or whimsical pottery by Lindsay Philabaun http://www.lindsayphilabaun.com
Amazing pottery with a sense of humor http://www.lockbridgepottery.com
Tamarack, the best of West Virginia http://www.tamarackwv.com