News & Features
2018 West Virginia Potter's Gathering 
Hand building expert Vince Pitelka headlined the 2018 Potter's Gathering held at Cedar Lakes Conference Center in Ripley, March 9-11. Pitelka is a professor at Tennessee Technical University's School of Art, Craft & Design at Appalachian Center for Craft in central Tennessee (about 60 miles east of Nashville) .
Large-Scale Coil Pot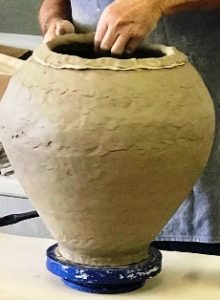 Taking the mystery out of coils, Vince demonstrated how to create a large, beautiful and elegant pot using simple coils, a rib and minimal scoring and slip application.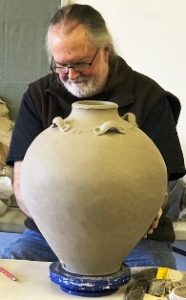 The finished pot, smoothed with a Shur-Form tool and slugs added.
Links We Like
West Virginia boasts so many incredibly talented potters. Here are just a few links we're following right now:
Exquisite pottery by Keith Lahti http://www.handmadecremationurns.com
Work by one of the state's best-loved potters  http://www.hannahspottery.com
Classic or whimsical pottery by Lindsay Philabaun http://www.lindsayphilabaun.com
Amazing pottery with a sense of humor http://www.lockbridgepottery.com
Tamarack, the best of West Virginia http://www.tamarackwv.com