News & Features
What We're Doing in the Studio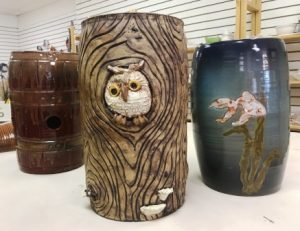 We love sharing what our students are doing in our classes. The garden stools above were a particularly fun project that really challenged our students on the wheel and really inspired their creativity.
Made in three parts and assembled, each student then brought his or her own ideas into the project:
Koi by Joe Butta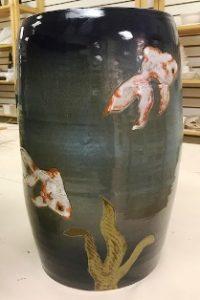 Artist Joe Butta showcases colorful fishes swimming in deep waters with flowing seaweed.
The Neighborhood by Linda Knowles
From owls and lizards to ants and mushrooms, artist Linda Knowles offers a whimsical take on the inhabitants of a tree.
Whiskey Barrel by Bobby Carter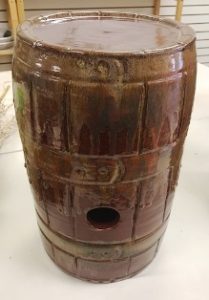 Bobby Carter created a realistic whiskey barrel complete with curved wooden boards and bands!
Links We Like
West Virginia boasts so many incredibly talented potters. Here are just a few links we're following right now:
Exquisite pottery by Keith Lahti http://www.handmadecremationurns.com
Work by one of the state's best-loved potters  http://www.hannahspottery.com
Classic or whimsical pottery by Lindsay Philabaun http://www.lindsayphilabaun.com
Amazing pottery with a sense of humor http://www.lockbridgepottery.com
Beautiful raku by Diana Pittis http://www.pittispottery.com
Tamarack, the best of West Virginia http://www.tamarackwv.com