Our Studios
Pottery Education for Everyone!
For adults, for kids. On the wheel or slabbed and coiled! Capitol Clay offers a warm, cheerful, music-filled environment to learn and create.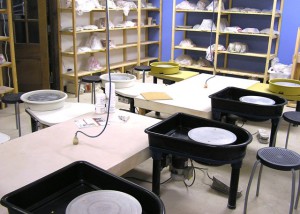 Our classes are project-oriented and designed to teach specific skills or explore new techniques (participation in class projects isn't required but is often helpful when you know you want to make "something" but aren't quite certain what). The wheel studio features 8 student wheels. Check out sample projects from recent classes.
In addition to our regular schedule of pottery wheel classes, we offer periodic workshops that range from an introduction to the wheel to advanced wheel techniques.
Our hand building studio features a top-of-the-line Northstar slab roller, along with an extruder and lots of tools for molding, adding texture and more. Also, project oriented, we offer classes dedicated to the art of hand building and also a combo class that combines the best of wheel and hand building techniques. Here are recent sample projects.