Tool Kit for Wheel Class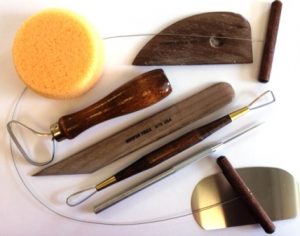 Pottery Tool Kit for the Wheel
$23
Contains everything needed to get you started on your pottery journey:
From top to bottom:
Cut Off Wire – cut slabs clay off the block, remove pot from bat or wheel head.
Synthetic Sponge – for smoothing surfaces and rims and removing water from thrown pieces.
Wooden Rib – assists in throwing cylinders, smoothing walls and shaping pots.
Pearcore Trimming Tool – makes quick work of trimming pot foot and exterior clean up.
Wood Modeling Tool – for trimming, sculpting and more.
Double Ended Ribbon Tool – for finer trimming on pot foot and rim.
Needle Tool – (some call it a pin tool) for testing thickness of bottoms of pots, cutting off uneven rims, scoring and so much more.
Steel Scraper – smooth and burnish surfaces.
See some of these tools at work on our tutorial video.