Tool Kit for Hand Building Class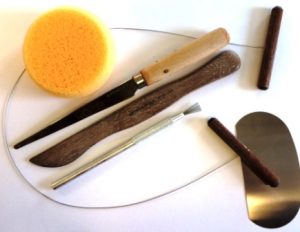 Tool Kit for Hand Building Pottery Class
$23
Everything you need to get you started on your exploration.
From top to bottom:
Cut Off Wire – remove slabs of clay from the block.
Synthetic Sponge – smooth clay, surfaces and remove water from work.
Fettling Knife – cut out clay from templates, cut extrusions cleanly.
Wood Modeling Tool – cut out parts, smooth joined pieces seamlessly.
Feather Texture Brush – make quick work of scoring components for assembly; add texture to surfaces.
Steel Scraper – smooth and burnish surfaces.