Meet Karen
Meet Karen
Karen is a refugee from corporate life, wtih over 20 years progressive experience in marketing communications for such diverse companies as Fruit of the Loom (white underwear), Plaid Enterprises (craft products), and Ott-Lite Technology (lighting products). She now applies that experience to promoting Capitol Clay Arts Company.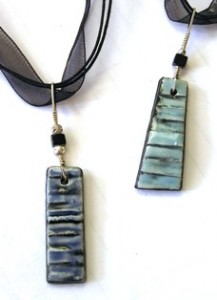 When the company first opened, Karen began making pendants as a quick way to test a large glaze line on different clay bodies. Today, her line of fine porcelain and sterling silver jewelry, Capitol Clay ArtWear, is found at Tamarack, MountainMade, the West Virginia Division of Culture & History gift store and at Stonewall Resort. You can also find a wide selection of her work at Capitol Clay Arts Company; view a gallery of her ArtWear or click here to read her artist's statement. View some of her newest work here.
Over the past four years, she's embraced clay as her media of choice and is known for her whimsical designs and love of surface decoration. Karen teaches kids classes, birthday parties and special events–designing custom projects to meet specific party or educational themes. Interested in having Capitol Clay host your next party? Check out some of our favorite "party projects".