2016 Blog Posts
Capitol Clay ArtWork: Karen's Blog About Our Studio
Welcome to Capitol Clay ArtWork. Please visit often to see what's new.
What's New? Earrings!  I  November 21, 2016
Black "Lace" Earrings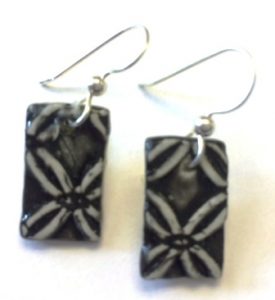 Textured porcelain earrings, stained with Black underglaze then sanded to allow the white clay to shine through. On sterling silver earwires. $20
Power Turquoise Earrings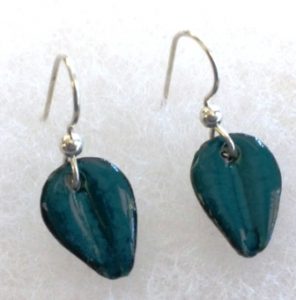 Tear-dropped shaped earrings in Power Turquoise, this fall's favorite color in the studio. On sterling silver earwires. $20
Obsidian Triangle Earrings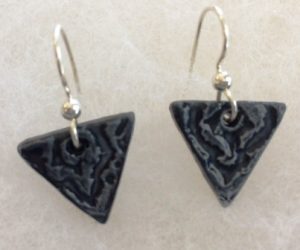 Textured earrings in dramatic Obsidian glaze. On sterling earwires. $20
Just in Time for Christmas!  I  November 14, 2016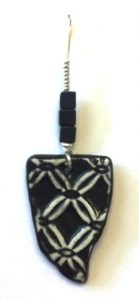 New jewelry pieces are now available at Capitol Clay Arts Company, including this free-form pendant. Made of Standard 365 Porcelain, with a floral pattern, I applied Black underglaze all over then sanded raised areas to create contrast and added Clear glaze over all. The piece is wired in Argentium Silver with a trio of square onyx beads. $25.
New Glazes in Action! I June 29, 2016
Goodness! How did it get to be the end of June with no new posts?!? There's lots of news to share: For instance, Mike has been experimenting with Coyote glazes introduced into our class program earlier this year. Check out his latest results: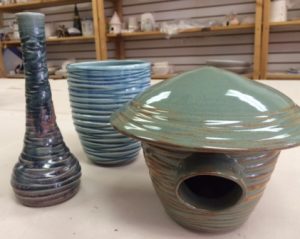 Textured Bottle – Eggplant on Standard 240 White Stoneware; the glaze is green breaking blue and pink. Really pretty.
Textured Vase – Opal on Standard 365 Cone 6 Porcelain; love how the glaze pools deep blue in the crevices.
Textured Birdhouse – Desert Sage on Standard 240 White Stoneware; He sanded the glaze over some of the raised areas to produce more of the breaking red/brown color. 
If you haven't experimented with these glazes yet, we heartily recommend them.