2015 Blog Posts
Capitol Clay ArtWork: Karen's Blog About Our Studio
Welcome to Capitol Clay ArtWork. Please visit often to see what's new.
Let the Countdown Begin! I December 8, 2015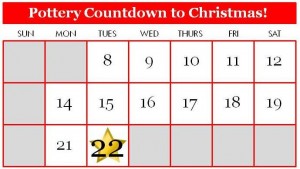 And Now Time for So Much More!  I  September, 30, 2015
We've been talking about the "Mugs" part of our Mugs and So Much More Pottery Sale–I thought it was time to show more of the fabulous things that aren't mugs that you'll find this Saturday, October 3.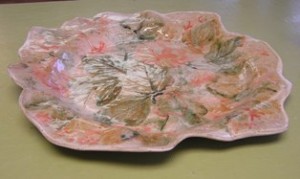 Elegant, hand painted and textured leaf platter by Elaine King. Grab this one Saturday night–my picture does not do it justice!
BlueBerry Bottle by Mike Garnes  I  September 29, 2015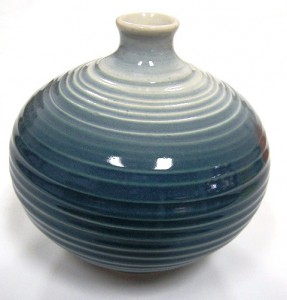 Colorfully Carved  Mug by Joe Butta  I  September 22, 2015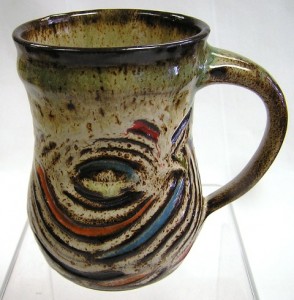 Stamped Heart Mug by Linda Jo Knowles  I  September 19, 2015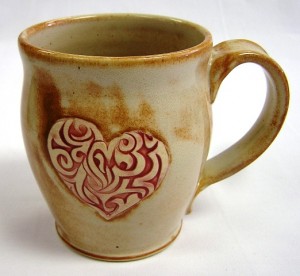 Hand-Carved Cattails Mug by Christy Berry  I  Posted September 17, 2015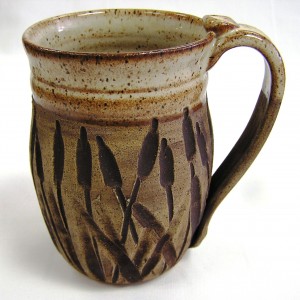 Christy Berry of Brass Bell Pottery will be selling her work at Mugs & So Much More! Saturday, October 3, 2015 from 4-8pm.
Water-Etched Mug by Joe Butta  I  Posted September 16, 2015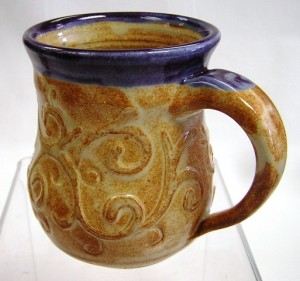 Shop this and so much more at our giant sale October 3!
Shop Our Giant Sale!  I  September 14, 2015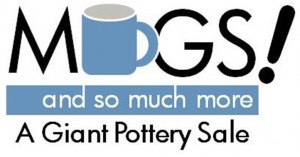 Saturday, October 3  I  4-8pm
Shop work from over 20 potters, enjoy food and beverages and watch potters at work in the studio!
Join the Conversation  I  July 22, 2015
Have you seen a piece of pottery or a technique you'd like to try? Tell us about it! I have established a Pinterest board called Project Inspiration & Things to Try; this is an open board and you can share your interests with us. To join the conversation, please follow me on Pinterest, I'll follow you back and invite you to the board. We've already created projects in class that students suggested–get your ideas into the mix. See more info at maideasyaz.com.
Fun with Flowers  I  May 25, 2015
This sweet trio of ceramic flowers was completed during our spring Kids Pottery Classes. We always try to make things kids can enjoy, use or share with their families. This project was so popular that our adult classes have been making them, too. Always the mark of a great kids' project.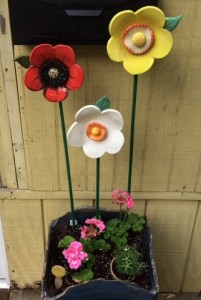 Finding Us Is Even Easier!  I  May 21, 2015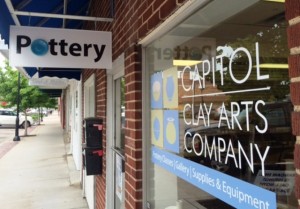 We love our location on charming D Street in South Charleston, West Virginia. Now we're making it even easier for you to find us. We've installed new signage that's easier to see from street or sidewalk. We hope you find it helpful!
There's a Fountain (It MUST Be Spring)  I April 21, 2015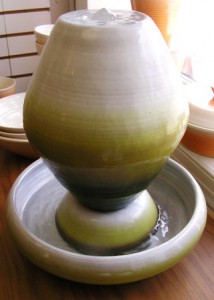 If there are fountains being made in the studio, spring must be here!
Mike's newest fountain stands 15 inches tall. Water bubbles from the top, fills the center bowl and cascades softly over the walls. Colors are beautifully blended from White (Cotton Tail) to Acid Green (Glow Worm)  to Dark Green (Just Froggy). $125 
Check Out What's New  I  April 15, 2015
Join us this Saturday from 10am-5pm as we help the South Charleston Public Library celebrate LibraryFest–a celebration of the library and the businesses that make South Charleston a wonderful community. We'll display some of our newest work so come check us out. Here's a sneak peek: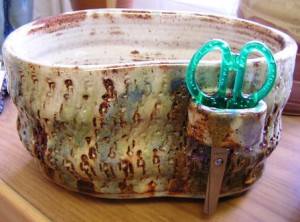 Herb Pot with Snipping Scissors Holder – Never hunt for your herb scissors again! Simply store them in the convenient holder–designed right into the pot. Artist, Mike Garnes. $25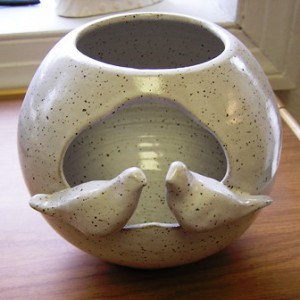 Love Birds Candle Votive – Cast a warm glow on summer nights with this charming candle votive (battery candles recommended). Artist, Mike Garnes. $25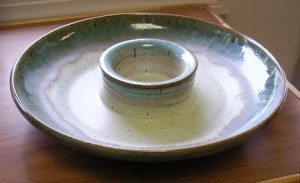 "Smart" Chip & Dip – It's smart because the center dip bowl is removable. Simply remove, cover and refrigerate left over dip for less waste. Artist, Mike Garnes. $40
Beating Pots into Submission?  I  February 18, 2015
Well, not exactly. Introducing the MudTools Paddle. Use the flat side of the paddle to help seal a seam or to gently alter the shape of your walls; the beveled side helps add flutes and pleats to your walls.
Made of reclaimed hardwood, each paddle measures 11″ x 1.75″ and comes with a colorful sleeve. Use the wooden paddle on its own or, if your clay is particularly wet and sticky, use it with the sleeve to allow the paddle to more easily release from the clay. $20.