2013 Blog Posts
Capitol Clay ArtWork: Posts from 2013
Holiday Gift Guide: Volume V  I   November 26, 2013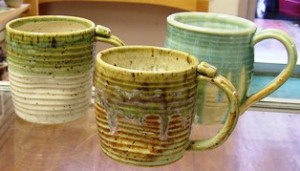 What's better than a fresh new coffee/tea mug? One that's handmade, of course! Mike, resident potter at Capitol Clay Arts Company, has been hard at work, creating new mugs for your favorite caffiene afficianados. From $15-18
Holiday Gift Guide: Volume IV  I  November 18, 2013
Looking for the perfect gift for the consummate host/hostess in your life? Look no further than Capitol Clay Arts Company. This handmade platter measures an impressive 16 inches in diameter–guaranteed to hold enough pasta to feed the largest gathering while looking beautiful all the while. We have a variety of platters in lots of designs and sizes. Seafoam Swirl Platter by Mike. $75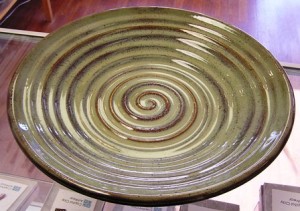 Holiday Gift Guide: Volume III  I  November 6, 2013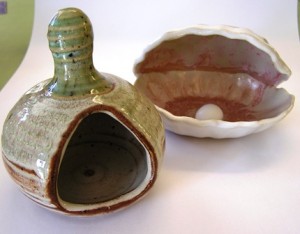 A great gift for your favorite chef! These hand made salt cellars bring functionality and a bit of whimsy to your kitchen. All you need to add is a great, exotic salt from your favorite gourmet shop and that's another gift checked off the list.
At far left: Salt Cellar with Finial by Mike. $15 At left: Oyster with Pearl Salt Cellar by Karen. SOLD
Holiday Gift Guide: Volume II  I  October 24, 2013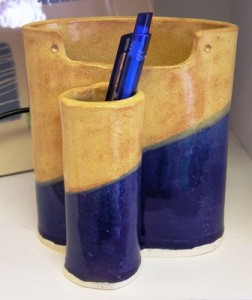 On your desk, by the phone, in the kitchen–this hand crafted pen and notepad holder would be a charming addition.
This one is glazed in state colors and has a distrinctly masculine feel. We have a nice selection in stock and some are really girly so stop by and check them out. $18.
Holiday Gift Guide: Volume I  I  September 17, 2013
As much as I hate to admit it, it's not too early to begin thinking about (heavy sigh) holiday gifts! Over the next few weeks, Capitol Clay will be offering some ideas and inspiration for gift-giving. Up first: A quick gift idea for boss or co-worker.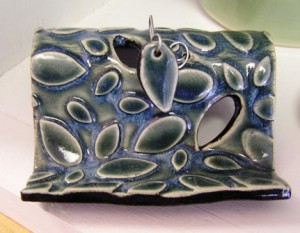 Textured Business Card Holder with Leaf Dangle
This leaf textured card holder features cut outs and a fun leaf dangling from a sterling wire to help hold your cards in place (and left's face it, it's just fun!). $12.50
To see more card holders–and other ideas, visit Capitol Clay Arts Company.
Fresh Baked!  I  July 19, 2013
Periodically, we like to share work that is coming out of our classes. Here are three great pieces–fresh from the kiln: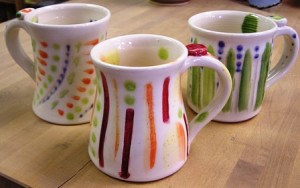 Joe Butta's Carved & Colorful Mug Trio–that's some happy pottery!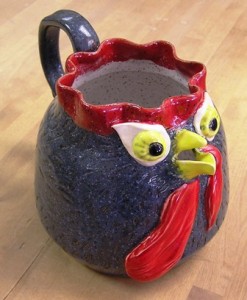 Chris Carte's Handsome Rooster Pitcher. His beak is the pour spout. Love him!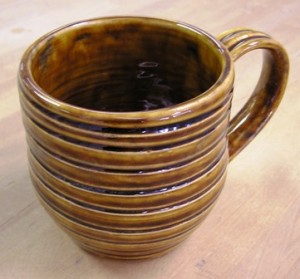 Roxanne Bobick's Ridged Mug. Love how the Root Beer glaze pools in the ridges.
Scratching the Surface  I  July 8, 2013
Lately, I've become a bit obsessed with sgraffito, scratching through the painted surface of clay to reveal the clay body beneath. It's a very zen process that I have really enjoyed exploring. Here are a few recent samples: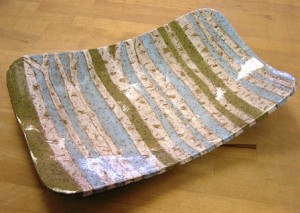 Birch Forest Plate
I loved the whole process of this project. I cut Coyote Underglazes, Olive and Light Blue, with White to soften the colors to match the color palette in my head, then loosely planned and sketched my trees on the surface of the clay. I then painted, I think, about five coats of each color in stripes, butting the edges. Finally, I grabbed my favorite tool, my Kemper Wire Stylus (page 7 of Tools catalogue) and began carving.
The piece was done on Laguna #60, a pretty warm clay with lots of specks and I admit that I was a bit concerned the amount of speck coming through might overpower the finish but I'm actually quite pleased with it. I'll so do this motif again. I'm already planning my next piece!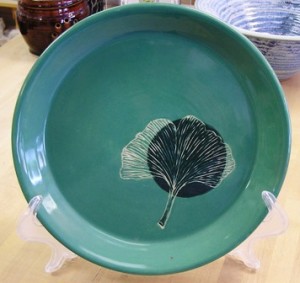 Summer's Gingko Plate
Mike popped into the studio one day with a greenware plate he'd demoed for a class and asked if I wanted to carve it (knowing the answer, of course). The plate was thrown using Standard 240, a nice white clay.
I painted the entire plate with Amaco Velvet Underglaze in Spring Green, then layered the background with the dark green spot using Coyote Cactus Green. I freehand carved the leaf with my trusty stylus and was delighted that both the lighter and darker greens were revealed (hope you can see that in the photo).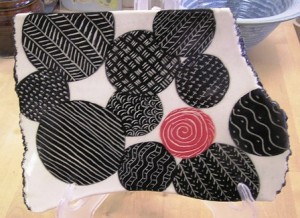 Balls!
No elegant name for this one, folks: just call it Balls!
I had a small slab of Standard 182G left over after a kids class so I painted a series of circles using Amaco Velvet Underglaze in Jet Black and Coyote's Really Red Underglaze, then just randomly carved patterns. It was a quick, organic design that I'll explore further. I used the handle of my Kemper PRO Tool and the salt drill side of my Salt & Pepper Drill to rough up the left and right edges of the plate; I emphasized those edges with more Jet Black.
Finally, I have a Poppy Trio square plate in the bisque kiln now and can't wait to see how it ends up. This is entirely too much fun and, if you haven't tried it for yourself, please do!
Seeing the Light  I   July 1, 2013
Many of our pottery wheel classes have centered around light this session and the many ways to deliver it; I think Mike has really outdone himself with some really cool pieces. So far, works created have included: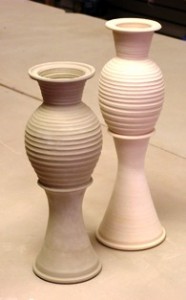 Pillar Candleholders
These were created in two sections for impressive height. The ridged top is, essentially a vase, attached to the base below. The one on the right has been bisque fired and is 15″ tall; the one on the left is greenware and, once fired, should be about 12″ tall. Both are made with Highwater Desert Buff with Specks, a really beautiful clay for throwing–and it takes glazes exceptionally well.
I've asked for a total of seven of these. Mike advises I shouldn't hold my breath.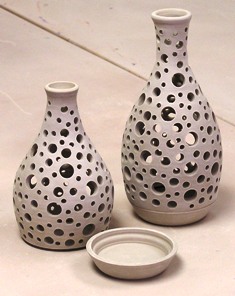 Holey Candle Votives (tre' cool)
Simple bottles are altered to become very cool and very functional candle votives. Mike threw the bottle and, after trimming, cut the bottom off (similar to creating a gallery lid). The resulting saucer will hold the candle and the bottle nestles securely over it. He punched the holes using Kemper Klay Kutters and the HC1A hole punch to create randomly spaced holes in a variety of sizes. I can't wait to take these for a test drive some summer evening (see page 12 of the Tools & Accessories catalogue to see all our hole punches and Klay Kutters).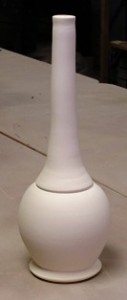 Contemporary Table Lamp
Mike threw the rounded base, then the tall neck and attached the two. He left the base thick so he could trim a deep, almost half inch foot allowing the cord to easily exit the bottom and out the side. The base is slightly beveled at the outside edge to give it some "lift".
The lamp is 20.5″ tall and is just begging for a simple, shallow drum shade, don't you think? I can't wait to share the completed, wired and shaded lamp in the future! I've claimed this one and it's destined for our home office. Of course the real challenge will be getting Mike to actually glaze it. I'll keep you posted.